Our gift from God, Colton Charles Stefanazzi was born on Feb. 23, 2018, at 4:37am. He is 8 lbs 2 oz, 21 inches long, and slightly overcooked at 41 weeks! He is already too long for my arms and will be taller than me in no time. He is perfect in every single way.
Our hearts are exploding uncontrollably with happiness. We are laughing, we are crying, we are dreaming up the future, we are worrying, we are excited, we are scared, and most of all, we love him so much, it hurts. It has been the most incredible journey and we are so grateful to be entering this beautiful next chapter of life.
Oh and did I mention that there is nothing more beautiful than seeing your already remarkable husband transitioning to an amazing father?????? Oh my.
Colton at 3 days old: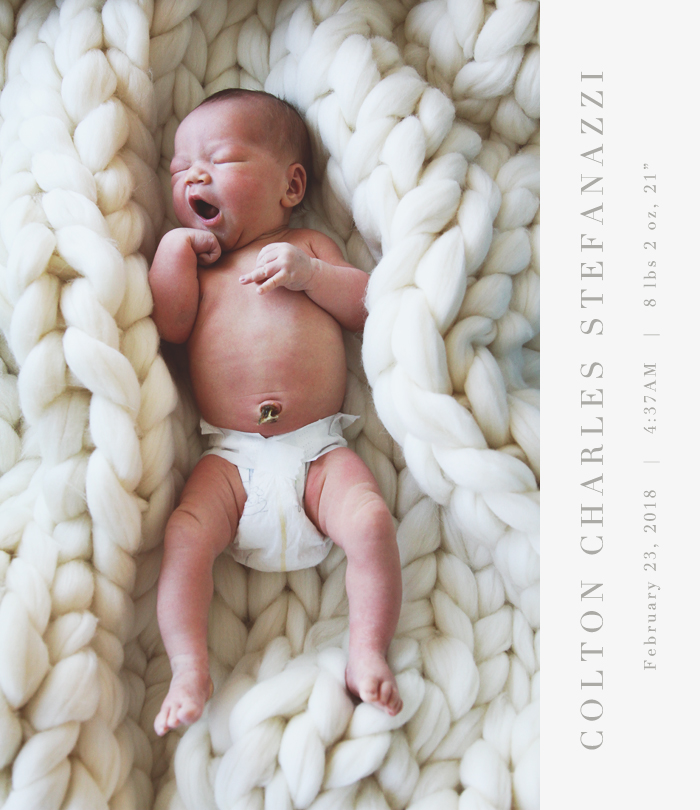 Now for the very special story and miracle behind Colton's birth. The little guy actually entered the world with a bit of a bang. When he was born, his lungs weren't firing at a hundred precent because he had mucus in his throat. My water had spontaneously broken on Thursday, Feb. 22nd at 3:00AM and I delivered on Friday, Feb. 23rd at 4:37AM. Somewhere in that time, mucus collected. And while this had no effect on him in the utero, it was a problem when entering the real world where he needed to breathe through his lungs. The mucus was blocking his airways and his lungs could not fully fire.
I don't recall a more terrifying moment in my life. "Code Pink" was announced, which in this hospital meant Infant Cardiac Arrest. Within a matter of seconds, there were about 25 nurses, doctors, specialists in our delivery room all simultaneously working on him. I was exhausted from the delivery as I had been pushing for 1.5 hours and was pretty much in delirium at that point. Chris and I held each other's hands tight, waiting… waiting… and waiting, not knowing what was going on or what was going to happen. It was truly terrifying and I prayed and prayed and prayed, knowing deep in my heart that my God has never and would never fail me.
After a few minutes, which really felt like an eternity at the time, we heard Colton's first beautiful cry – the sound that instantly lightened my very heavy heart. This meant that his airways had started to clear and he was now starting to breathe properly.
The next 72 hours were spent in the Special Care Nursery for lots of tests and monitoring to make sure he wasn't hurt in any way by this event. The little fighter passed every test with flying colours, rebounded like nothing happened, and was thriving. Not only that, the Special Care Nursery was the biggest blessing in disguise. It was like we were in a free baby care training class for 3 full days. We had INCREDIBLE nurses and resources at our fingertips for questions, tips, tricks and live everyday support on how to care for a newborn. By the time we came home from the hospital, which was Monday, Feb. 26th, we had ALL of our ducks in a row. It was the most seamless, effortless transition that would not have been the case had we been sent home the next day with a standard delivery. We had a solid routine locked and loaded and knew about everything we previously did not know. It was a very special 72 hours and we are counting our blessings.
What a ride is has been and it has only been 5 little days. I cannot wait for our journey with this very precious gift. He has my whole heart and then some. I know it's not all going to be rosey. I know there will be really hard days. I know I'm going to spend the rest of my life worrying about every little thing. But this is motherhood and there is no greater privilege.
May the Lord be with you always, my little one.