Alright, I'm ready to share another part of this magical room, yay! :) This is the other side of the nursery. I really don't know which side of the room I like better – they both make me very giddy! It's really my new zen place (perhaps until the chaos of a newborn comes).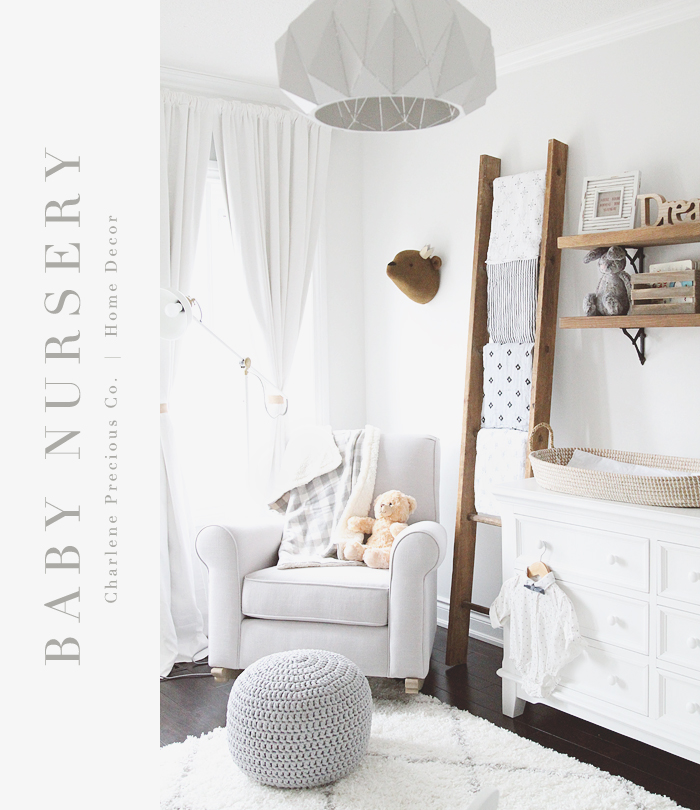 So let's chat quickly about the different pieces here.
DECOR TIPS:
1. Rocking Chair: What I love about this rocking chair is that it has the traditional arched legs vs the modern "gliders". Not only that, the legs are made of wood, which added a nice touch and fit nicely in the room. We really wanted a traditional wooden rocking chair but the comfort is just lacking compared to modern rocking chairs, so it was awesome to find a middle ground between traditional legs and modern comfort. This piece is from Pottery Barn Kids and it's called the Charleston Convertible Rocker.
2. Dresser: This super white dresser is the Jonesport Double Dresser from good ol' Toys R Us. It looks fantastic and very reasonably priced. If you haven't already noticed, I don't love deliberately matching furniture pieces and tend to steer away from "sets". In fact, I purposely make sure things don't match but rather complement each other! That's the real trick and changes the game!
3. Rustic Ladder: Boy is it ever tough to find a good looking ladder! After a few failed tries, we found one at a local store called Hearth Manor Fireplaces. This ladder was tucked away in a dusty corner and we happened to spot it. It wasn't cheap but it had quite the beautiful rustic finish, so we took the plunge. We had to cut it down ourselves because it was a 12-foot ladder and we only have an 8-foot ceiling in this house! Other than that, I absolutely love it. Ladders are fantastic decor pieces and never fails to add character to a room :). Once the baby is able to walk/climb stuff, we'll have to relocate this to another place in the house but 'til then, it can stay :).
4. Wall Shelves: Got these at VdeV downtown. They're the 48 x 9″ pine shelves with small Demi Lune brackets. These shelves are super HEAVY DUTY. They weigh a ton and they are gorgeous with a finish that matched the ladder almost perfectly. The vision for the nursery was always whites and greys with rustic wood accents to add some boyishness to the overall baby softness, so these pieces delivered nicely on the "harder" accents!
5. Crochet Pouf Ottoman: Instead of spending a fortune on a matching ottoman for our rocking chair (and also because I really hate matching furniture pieces :P), we got a pouf instead. This one's from an Etsy Shop, Looping Home. The artisan is based in Portugal and makes all sorts of beautiful custom poufs in various colours, shapes, and sizes! It's not the cheapest (but still cheaper than a real ottoman) because nothing is cheap on Etsy but a) I love supporting artists and b) being able to customize items, so I continue to be a huge fan of this marketplace!
6. Teddy Bear Faux Taxidermy: Also bought this super cute faux taxidermy at an Etsy Shop, Heidi and Finn Studio. They're local in Georgetown, which made me want to support them even more. They make all sorts of super cute faux taxidermies but given the colour scheme of the room, the brown bear was the right one to go with :). Real taxidermies can be a bit creepy but plush ones are simply cute as buttons. Notice his little crown as well! So adorable. Turnaround time was also impeccable with this shop; the bear came within 2 days of me ordering!
7. Changing Basket: This might honestly be one of the most impractical things I've purchased for the room but am still kind of proud of it! I say it's impractical because it's not overly big and I'm pretty sure my little guy will outgrow it in no time. Having said that, it is just the prettiest and most unique change pad. I find the traditional ones a bit of an eye sore and couldn't get myself to buy them, so I went with this Reva Oval Changing Basket from Olli Ella. :) I also just love the finishing touch that wicker pieces bring to a room!
8. Blanket: The blanket thrown over the rocking chair is from Indigo called the Cabin Cozy Sherpa Blanket. It's so soft and cuddly, I adore it! Rocking chairs and couches always need some sort of a throw for a finishing touch, otherwise they look bare and incomplete :).
9. Teddy: The little teddy bear on the rocking chair is actually just an old Build-A-Bear that I gave Chris as a present many years ago. Now it's being passed down to the little guy. :)
10. Floor Lamp: Because our ceiling light fixture is dim in nature (we didn't want an overly startling bright light), we decided to get a secondary floor lamp in case we needed the room to be brighter for any reason. This spot light is the RANARP floor/reading lamp from IKEA. Super cheap and looks awesome.
11. White linen drapes, rug, and ceiling light fixture were covered off in my first baby nursery post here.


Charleston Convertible Rocker, Linen Blend Grey – Pottery Barn Kids
Jonesport White Double Dresser – Toys R Us
Vintage Rustic Wooden Ladder – Hearth Manor Fireplaces
Pine Wall Shelves, 48 x 9″, Walnut – VdeV
Small Demi Lune Brackets (for wall shelves) – VdeV
Stuffed Crochet Pouf, Grey – Looping Home
Teddy Bear Faux Taxidermy – Heidi and Finn Studio
Cabin Cozy Sherpa Blanket, Buffalo Check, Grey – Indigo Baby
Reva Oval Changing Basket – Olli Ella
RANARP Floor Lamp, White – IKEA
Little Teddy – Build-A-Bear Workshop