Of all the home projects, the closet was probably among the easiest and cheapest!
DECOR TIP: Here's all that you need to build a $500 low-cost yet pretty closet!
1. CLOSET ROD
Simply install this from one end of the closet to the other. You may need to throw in a support bracket in the middle if you have a lot of clothes that will eventually weigh the rod down!
2. MINI DRESSER
This is so you have a set of drawers to dump your clothes in! Extremely helpful to keep your closet neat.
3. MATCHING HANGERS
This is only if you care about having a "pretty" closet. Make sure your hangers match across the board – it makes everything look prettier and more organized! Miscellaneous hangers look messy :P.
4. SHELVES
This is an easy way to store your shoes neatly inside your closet. Again, pick colours that complement or match the rest of your closet. For instance, if my hangers are natural pine wood, then I'll also pick natural pine wood for shelves!
5. LOUVERED DOORS
I love, love, love the look of shutters in general, so louvered-style closet doors were the perfect choice for me. I also love the bifold function because they are not only space-saving but they also look awesome!
6. DECORATIVE KNOBS
Toss the standard knobs that come with closet doors you buy at big box retailers and go out and get some decorative ones to spice things up! :)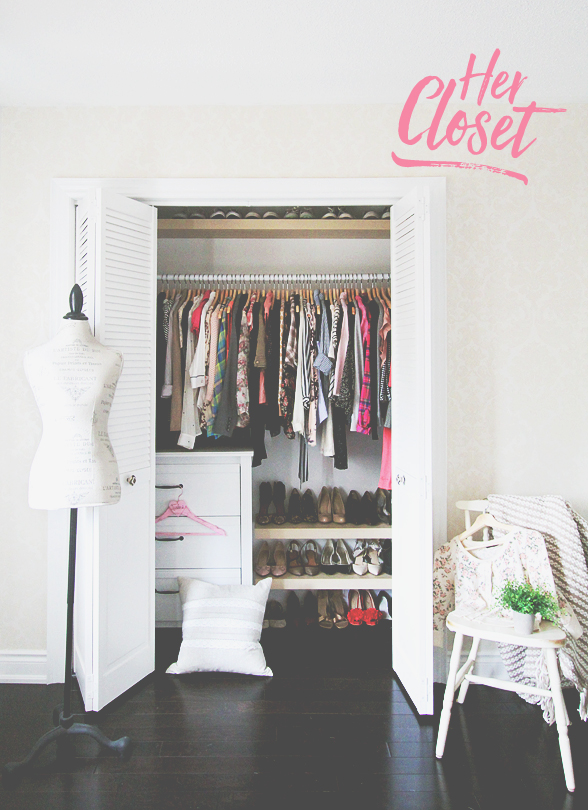 Adjustable Closet Rod – Lowe's
KOPPANG Chest of 3 Drawers – IKEA
BUMERANG Hangers – IKEA
EKBY HEMNES Wall Shelves – IKEA
Interior Bifold Louvered Closet Doors – Lowe's
Clover Decorative Knobs – Anthropologie