When we gutted the living room and the kitchen, which were side by side, one of the things we wanted to do was turn the space into an open concept lounge / entertainment area, where the 2 rooms cohesively joined together. Sounds kind of funny but it totally works. Before and after pictures to come really soon!
In the lounge, we've built 2 ceiling-high bookcases because we're just about obsessed with the look of them. We've learned that if ever you're struggling with how to bring life to a room, a bookcase or some sort of a shelving unit is a great go-to. We've incorporated shelves in almost every room and it works like a charm every time. The shelves themselves play an important role in the aesthetics but what you fill them up with is the ultimate key (and also the fun part)!
This here is one of the 2 ceiling high shelves in the lounge.There are many ways to style a bookcase. The #1 bookcase filler is obviously BOOKS! But not just any kind of book, they have to be pretty books :). We carefully hand-selected these ones from Value Village for $3-$5 each. Over the holidays, we actually got 25 beautiful books for $1.99 each. You just can't go wrong. Why buy them new when they have so much more character pre-owned?
BOOK SELECTION TIP: Start with your colour scheme. What colour tones do you want your bookcase to carry? In our case, we wanted whites and soft Earth tones with peach and mint green accents. Then you simply browse through a used book store and pay special attention to the style and colour of the book spine. As you pick them out, stack them on top of each other and see if you like what you're seeing! You can also pick older books in general where the pages have yellowed and look worn because you can flip the books around and display the aged pages in place of the actual spine the way we did in the wicker baskets. Also note that you can arrange books in the traditional vertical upright position or you can lay them flat and stack them horizontally. A mix of both is great! :)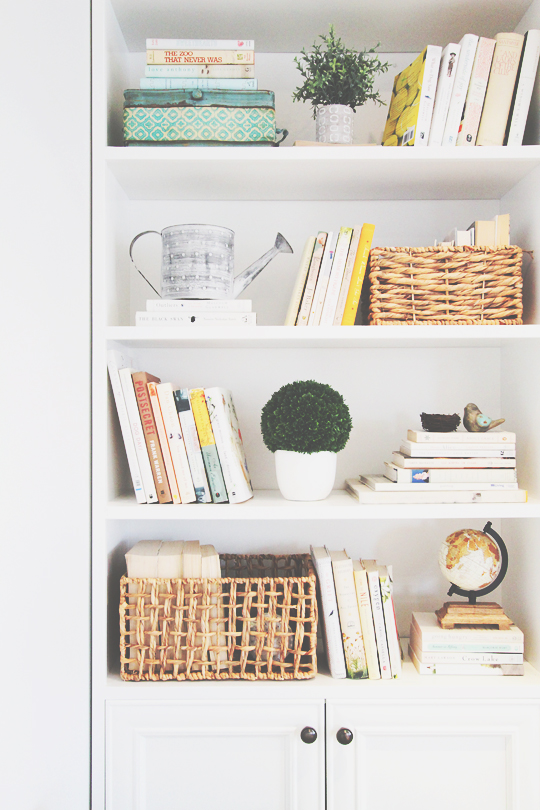 In our home, the second go-to for bookcase fillers would probably be wicker baskets. They take up space, which is great! But they also serve as storage AND they look awesome. It's a win on all fronts. Our wicker baskets in these shelves were from Homesense; it's generally the best place to find beautiful yet affordable ones.
After the books and baskets are in place, you want to move on to the accent pieces. Find things that you love or that mean something to you or that you simply think are pretty! In our case, we used a globe to represent our love for travel, a mint green storage box to pull in the colours we wanted, a watering can because it was pretty, some flowers, and other knick knacks. Accent pieces are all about trial and error, especially in this house. Not every piece you buy is going to work right out of the gates. You'll see that when this photo was taken, there was still a tag left on one of the flower accents. We tend to leave tags on and let the pieces be for a couple of days before we decide whether they're the perfect fit or not. The eyes need time to adjust! :)


Pre-Owned Books – Value Village
Nellie Storage Box – Urban Barn
Wicker Baskets – Homesense
Globe, Flowers, Watering Can Accents – Homesense
Bird's Nest Accent – Michaels Arts & Crafts
Ceramic Bird Accent – Michaels Arts & Crafts
[ Back to Decor Ideas ]