She's up and she's a beauty! Hello, Christmas! :) I LOVE putting up the tree and playing some classic Christmas songs while doing it. We got this beauty up last night and it makes me happy every time I look at it. It's such a treat and warms up the whole house. Love all her sparkle and shimmer and everything. It's definitely the most wonderful time of the year. A busy time, but a wonderful time. I have the week off with Chris to do baby errands (it truly feels like a never-ending list) and Christmas shopping – it'll be busy but nice!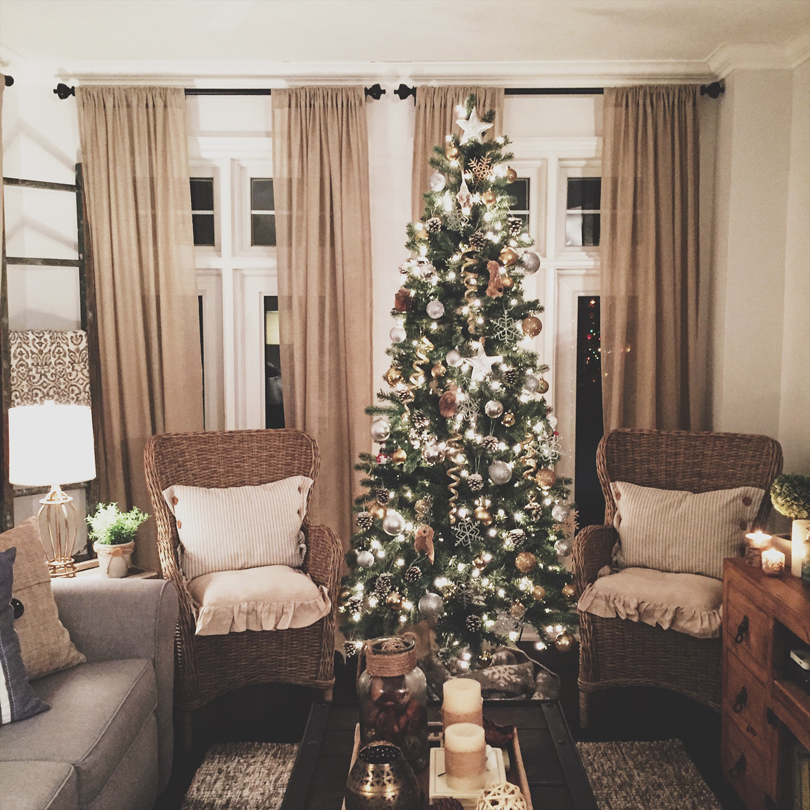 Alright, onto DECOR TIPS:
1. If you have a small space for a tree, slim trees are so key! (Not a short tree, a SLIM tree!) It could be tempting to just get a small overall tree but you can get away with a skinny tree and still get the glory of the height :). A short, small tree just does not look or feel the same.
2. Tree skirts are generally a miss for me. I don't tend to love the designs that I've come across and quite frankly, they're just too large in diameter that it would not fit in our small tree space. So instead, I found us a holiday throw/blanket and used that to wrap around the base of the tree. Works like a charm!
3. Lastly, the ornaments. This can become an obsession very quickly because they're just too. darn. pretty. We got most of ours from Canadian Tire and maybe a few from Homesense and then I had to block it out of my mind to keep me from buying a gazillion. :)
Before buying your ornaments, you have to decide on a colour scheme. For us, we chose silver and gold with brown/wood-like accents. After that, it's pretty much just picking the shapes and figures you like and love. Ah, so much fun!
That's it from me for now! I'm going to get back to watching Love Actually – best Christmas movie ever. I'll be back in December for a baby bump update!


NOMA Carlton Pre-Lit Slim Christmas Tree – Canadian Tire
Tree Skirt (Blanket) – Homesense
Misc. Ornaments – Canadian Tire & Homesense