We were absolutely notorious for throwing mail and keys on the first flat surface we came across when entering the house. This was the case back in our apartment and was still the case in our new home. It was the ultimate way to make instant mess as soon as we got in. For that reason, this letter rack and key holder unit was critical when it came to saving ourselves from our terrible habit! But of course, while this piece was brought in to solve much more than a decorative need, it instantly became a decorative piece as we "beautified" it and turned it into something worth talking about. And guys, that's what it's ALL about! :)
This custom letter rack and key holder piece was built by Tanis from Reclaimed Home Decor. We needed this built to the size and style we wanted all while fulfilling its deeper purpose! We found Tanis completely by chance when we bought a piece of her furniture from the One of a Kind Antique Mall in Woodstock and then realized after the fact that it wasn't right for our space. We had to track down the creator to work out an alternative, and there was Tanis! Soon we discovered all of her other beautiful furniture pieces and couldn't wait to work together.
Now we hang our keys diligently and throw mail right into this thing without making a total mess. In fact, it looks great by the entrance and warms up the space quite a bit.
DECOR TIP: All it takes to turn a functional unit like this into an accent decor piece in your home is a glass bottle with flowers, framed art, and decorative wicker balls. Simple dimple!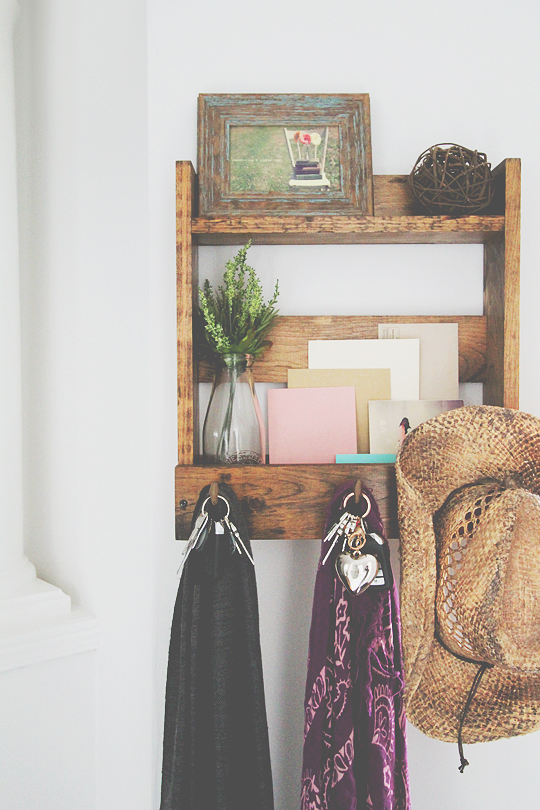 FRAMED ART TIP: We are totally not into keeping the glass when framing our art prints! Abandon the glass! Lose it! Part ways with it! Choose a rustic distressed frame either at Homesense, Michaels, or Etsy, ditch the glass, and throw our prints(s) in it and we promise, you'll be in for a beautiful treat! :)


Mail Organizer / Key Hanger Unit – Reclaimed Home Decor
Glass Milk Bottle – Michaels Arts & Crafts
Wild Daisy Spray Flowers – Michaels Arts & Crafts (Exact piece unavailable online)
Wicker Balls – Homesense
4 x 6″ Rustic Frame – Homesense
*Featured Art Print: 4 x 6″ A Simple Time – Charlene Precious Co.*
[ Back to Decor Ideas ]