It's been some time but I'm working hard to get back on track with blog posts! Colton is 14 months old, becoming a confident little boy, and while I love it, I am also starting to miss the baby days. He's going to outgrow his sweet nursery in no time and though I'm pumped about decorating a toddler's room, I want to savour this nursery just a bit longer.
This is the change table area that I haven't yet shared. My favourite piece is by far the change basket. I worried that we wouldn't be able to use it for long or that he'd outgrow it too quickly but 14 months later, it's still perfect!
DECOR TIP: If ever in doubt, ladders and wall shelves are fantastic go-tos for any room. If you love anything that you see here, all the details are below.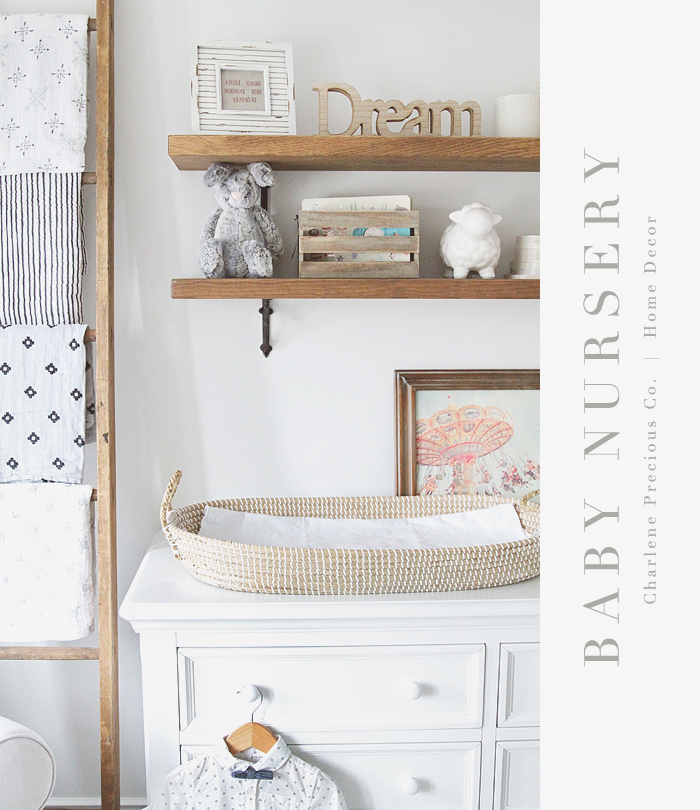 Charleston Convertible Rocker, Linen Blend Grey – Pottery Barn Kids
Jonesport White Double Dresser – Toys R Us
Vintage Rustic Wooden Ladder – Hearth Manor Fireplaces
Pine Wall Shelves, 48 x 9″, Walnut – VdeV
Small Demi Lune Brackets (for wall shelves) – VdeV
Reva Oval Changing Basket – Olli Ella
Mini wooden crate – Bouclair Home
Dream Word Sign – Bouclair Home
Bunny Plush Toy – Indigo Baby
Sheep Coin Bank – Indigo Baby
Classic Lovestruck Swaddles – Indigo Baby
Picture Frames (discontinued) – Michaels Arts & Crafts
*Featured Art Print: All You Need Is Love* – Charlene Precious Co.
*Featured Art Print: Childhood Innocence* – Charlene Precious Co.