I am sooo sorry for an unexpected, no-warning 3-month hiatus!!! Life got incredibly busy and the blog got abandoned for a little bit :(. I am BACK though. Also so excited to have finally taken the plunge on purchasing a new lens – the Canon L Series 24-70mm f2.8. I realize that sounded gibberish to many of you but it's not just any lens, it is THE lens. Pricey as hell but also long overdue and a well deserved treat for myself after getting a promotion at work :) (You're looking at the newest Marketing Manager at General Mills as of July). Yay!!! So happy.
Now onto a decor update!
The linen closet can either be an eye sore or a pretty place :). They can also be a chaotic dumpster or they can be storage (its intended purpose) where you can easily find things. Let's be honest, no one likes to have to hunt things down around the house. And things are usually easy to find when they're organized in some way.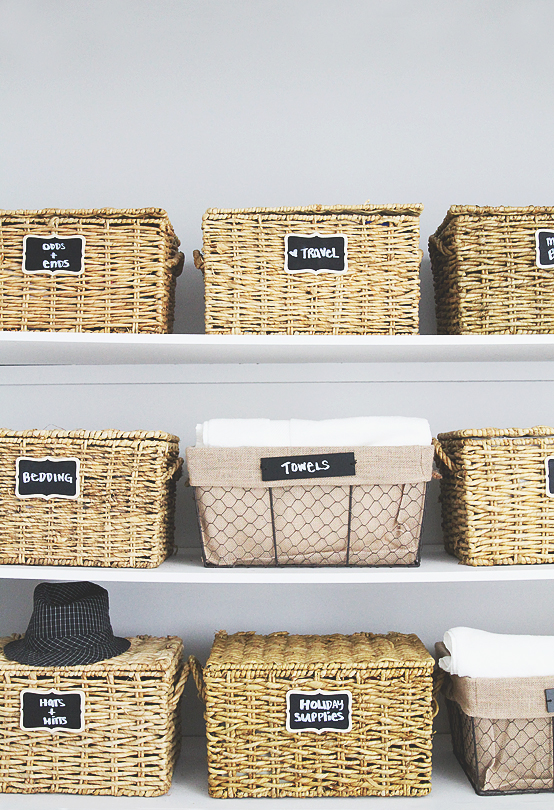 Here's what we've done to our giant linen closet in the upstairs hallway. Organized things into wicker baskets with labels. We've been in our home for 2 years now and the closet has stayed exactly like this. Once things are in nice, organized boxes, you can't help but keep it that way!
DECOR TIPS:
1. Think of your organization categories!
2. Pick up some matching wicker baskets from Michael's Arts & Crafts
3. Pick up a few accent baskets to add fun and personality to the mix
4. Pick up mini chalkboard signs from Michael's or Dollarama, label them with your categories, and use a glue gun to adhere them to your baskets


Ashland Bacbac Storage Baskets – Michael's Arts & Crafts
Ashland Wire Baskets – Michael's Arts & Crafts
Gartner Studios Chalkboard Labels – Michael's Arts & Crafts