It's been while since I've shared another piece of the nursery so here it is, the bookcase area :)! If you haven't caught the nursery series so far, you can take a peek here and here.
The styling of the bookcase has actually evolved a little bit more since this photo was taken but time is a scarcity these days so I wasn't able to take a more updated photo. This will have to do!
I LOVE bookcases and this one was so much fun to dress up only because it was different from the rest of the bookcases we've decorated and filled up around the house. It's the only one that can be styled for a baby and that occasion doesn't come around every day!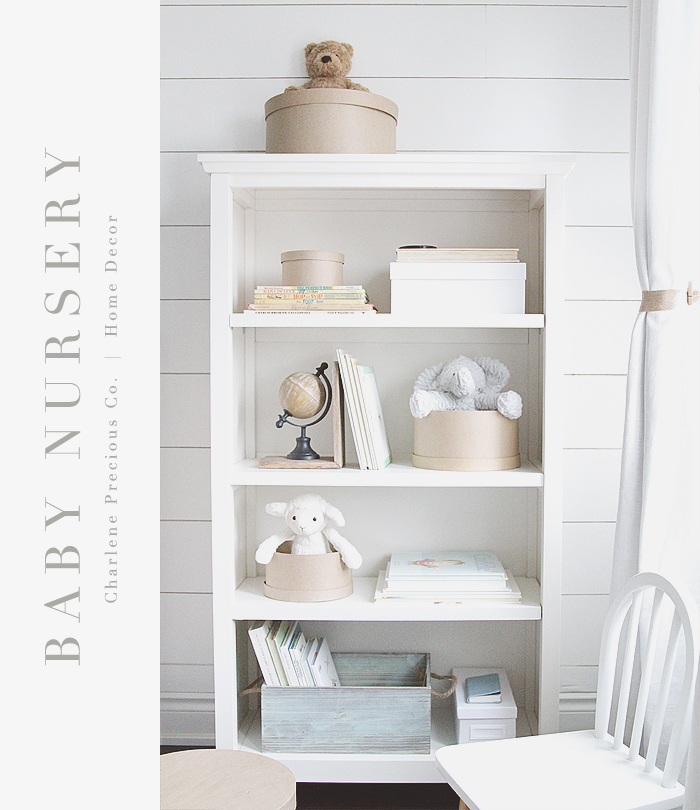 DECOR TIPS:
Just 3 that I want to quickly share (before baby wakes up ;)).
1. Less is more & mind the space: Don't overload the bookcase with things. Think of it as a wonderful storage unit but one that has to look good since it's out for the world to see. Be mindful of space between items to create clean lines – don't overload and err on the side of 'less is more'. I could stockpile a lot more books than what's in the bookcase but that'd look terrible :P. And when filling up a bookcase, don't limit yourself to just literally books! Always complement with pretty boxes, baskets, bins, which fill the space substantially but in a neat, non-cluttered, minimalistic way; they just so happen to also work great for extra storage.
2. Decide on a tone, mood, colour scheme: You would generally want to think about an overall tone for your bookcase. Soft? Vibrant? Dark? Girly? Boyish? In our case, I wanted a soft and calm, earthy-tone bookcase, mixing colours like whites, greys, baby blues, and pastel browns together. Having this in mind will guide your shopping list and how you put everything together from your accent items to your actual books.
3. Play with book layout: The traditional way to place books in a bookcase is in the vertical upright position. But to add appeal, place some of your books horizontally/flat and then stack them on top of each other. Be mindful of the books' spines – try to put books together with spine designs/colours that go hand in hand with each other. Might I just add that Value Village has $1.00 pre-loved nursery books that are in fantastic condition??? We picked up a whole bunch and then sanitized them. Dollars very well spent!
That'll be all for this bookcase. It'll be a few more weeks before we take some of these books and start reading to our little guy. For now, I'll enjoy its completely untouched state while it lasts :).


Cameron 4-Shelf Bookcase – Pottery Barn Kids
FuddleWuddle Elephant – Indigo Kids
FuddleWuddle Lamb – Indigo Kids
Bashful Honey Bear (exact bear no longer avail.)- Indigo Kids
Books – Value Village & Indigo Kids
Darice Paper Mache Round Box Set – Michaels Arts & Crafts
Blue Wooden Crate (exact crate no longer avail.) – Michaels Arts & Crafts
Globe Bookend – Homesense
White Smarassel Box – IKEA
White Toddler Chair – Homesense