First thing's first: there's a lot to talk about in this image but our focus today is going to be on the chalkboard alone! :) We love chalkboards! If it were possible to incorporate a chalkboard into every room without being awkwardly excessive, we totally would. Having said that, a DIY chalkboard decor is suitable for any room and for us, it was the dining room. The best part is you can pretty much make your own to get it just the way you want it.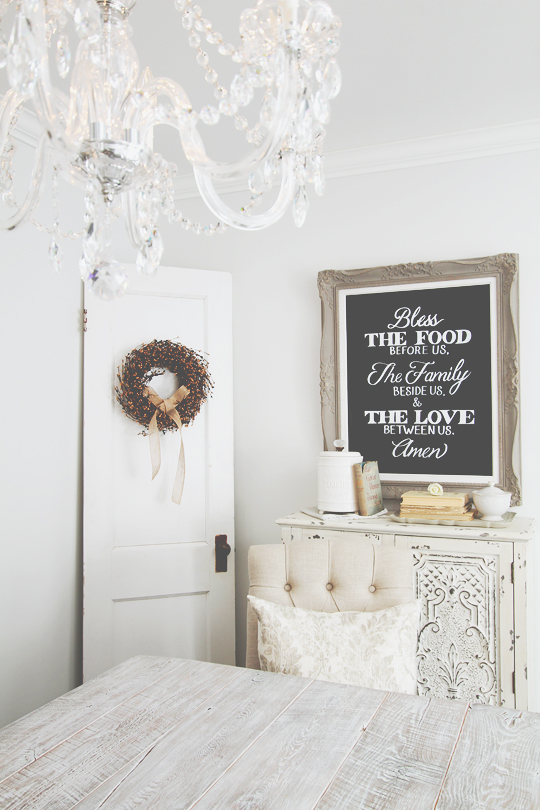 We started by measuring the space above our dining room "hutch" to determine the acceptable range of sizes for a framed chalkboard. We wanted it to be just a tiny bit smaller than the width of our hutch but not by much.
We headed over to the One of a Kind Antique Mall in Woodstock to find antique paintings in beautiful, old, ornate frames — you can't find these things anywhere other than the past! We ended up finding two different gold framed paintings from the 1920s that we loved. The frame designs themselves were different but more importantly, the sizes were also different with one smaller than the other. Choosing sizes is always such a dilemma, especially when you're at the store and don't have a chance to test in your space.
SIZE DECISION TIP: When in doubt, the rule of thumb is to always go with the bigger one. From our experience so far, this rule applies to lights and wall art at the very least!
We then got Annie Sloan Chalk Paint in French Linen and painted right over the gold frame. The beauty of chalk paint is you can paint over anything even if it has a finish. It's actually among the best inventions — someone took away the pain of sanding?? We're in!
After turning the gold frame into grey, we lightly sanded the edges to give it a distressed finish. We also threw some white chalk paint over the yellowing mat that came with the antique painting just to freshen it up and add some contrast!
When the frame was complete, we moved onto the chalkboard itself. This part was really super easy. We got a quarter-inch thick piece of drywall from Home Depot, cut it to the size we needed, and spray painted it with 3 coats of Rust-Oleum's chalk board paint to make sure we achieved a smooth, consistent surface.
DIY CHALKBOARD PAINTING TIP: We'd highly recommend spray painting on drywall over painting with a brush. You'll get a much smoother and cleaner surface!
The final step was to hire an amazing chalk artist, that is @edissondesign, to execute the calligraphy on the board. There was no way my husband and I would've been able to do this step any justice, so we surrendered to an expert. :)
And there you have it, a DIY chalkboard wall art in the dining room!


Chalk Board Frame – One of a Kind Antique Mall
Rust-Oleum Chalk Board Paint – Home Depot
Blackboard 1/4″ Drywall – Home Depot
Annie Sloan French Linen Chalk Paint – The Painted Bench
Chalk Artist – @edissondesign
[ Back to Decor Ideas ]