This here is a section of our kitchen and it's one of my personal favourites. Here are some of my white kitchen ideas:
KITCHEN TIP #1: When all else fails, go white because you can't go wrong with it. In fact, it's the surest and safest option in my humble opinion. It's one of the few "safe" things in life that reap great rewards. It may be safe but it always has impact. A white room is alluring to the eyes. So this one's about setting a white stage and adding splashes of colour through your finishing touches!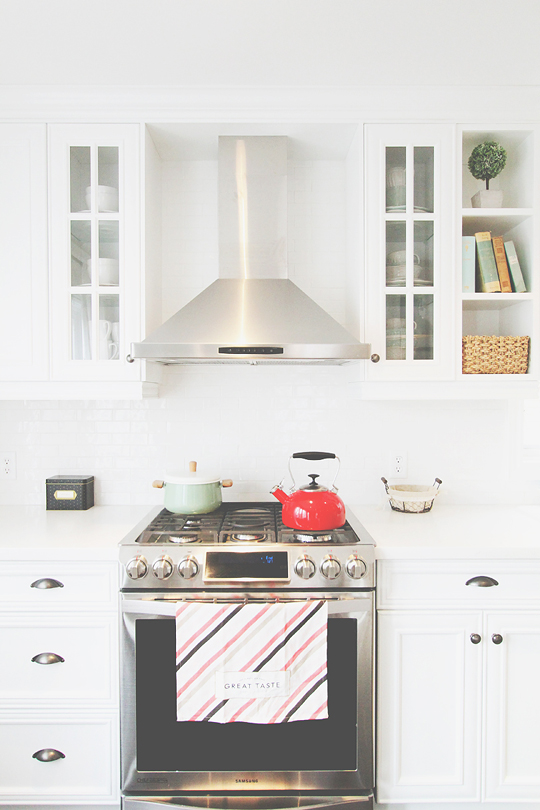 I think a few things make this particular area in the kitchen look dashing. We can start with the big things although they're not necessarily the things that make your kitchen beautiful. But they matter because they set the foundation – the gas stove (because electric stoves are not quite as pretty), the white cupboards, the glass cupboards, the white brick-style backsplash, and the white countertops all play an important role. But what you do afterwards with finishing touches is what brings it from good to great!
The pot.
The kettle.
The recipe box.
The bread basket.
The china peeping through the glass cupboards.
The kitchen towel.
The books, wicker basket, and plant on the open shelves.
It's all in the details! Add some clutter in a minimalistic, de-cluttered way. We chose red to be the popping colour and mint green as our secondary, more recessed colour and together, they look fresh!
KITCHEN TIP #2: Bring on the glass cupboards and open shelves! It's such a nice way to add some character and personality through the items you place on them. Not to mention, it's incredibly fun to handpick items that are worthy of being "displayed" so to speak!
Now imagine the open shelves did not exist or the glass cupboards in this case were solid wood! It wouldn't be the same. We do get the hesitation with glass cupboards – you want to be able to simply store not-so-pretty china and dishware without a thought or worry about exposing them to the world. That's completely valid, which is why you do a mix! A 2:5 glass-to-solid door cupboards ratio worked for us! But when all is said and done, there is no hard and fast rule, just something to consider when working on your cupboards. :)


Kastrull Pot with Lid – IKEA
Red Kettle – Homesense
Rifle Paper Co. Polka Dot Tin Recipe Box – Chapters-Indigo
Wire Bread Basket – Homesense
Kate Spade Kitchen Towel – Homesense
Mint Green Books – Value Village
Ashland Water Hyacinth Rectangle Basket – Michaels Arts & Crafts
Green Bushel in Grey Pot – Homesense
[ Back to Decor Ideas ]