If you're looking for ways to spice up a girl's room, here are some ideas.
You can do a lot more with walls than just hang the standard art, clocks, and mirrors. You can give it some dimension by installing shelves, inexpensive DIY shelves at that. If you ever venture out to the countryside in the summer, you'll find wood scraps everywhere. Grab a few good pieces and bring them home with you! These two were wood scraps we found last summer in and around Bobcaygeon – we picked one with live edge and one without for contrast. :) We slapped some Benjamin Moore super white paint on them purposely leaving some parts uncovered, and voila. There was no method to our madness – we're terrible painters, so if we can do this, you absolutely can! After all, one of the most awesome traits of rustic furniture is that imperfections add to rather than take away from them.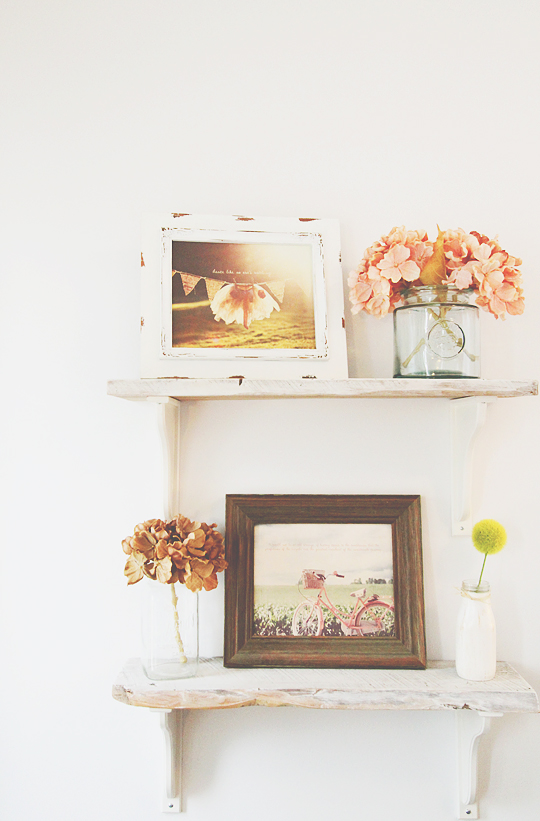 The brackets were IKEA'S Ekby Hensvik. Gotta love IKEA furniture names. If it wasn't for the fact that we were set out to hammer through this project and get it done in one sitting, I would have sourced cast iron brackets that were painted white like this! It would add significantly more character – highly recommend going down the cast iron route if building something similar to this. We took the easy way out this time and although it isn't perfect, it still worked out better than expected (thank goodness)!
SHELF BRACKET TIP: There are standard sizes for brackets, so make sure you familiarize yourself with those dimensions before cutting your lumber to make the shelves. It's almost wise to start with the brackets first and work your way to the shelves as far as shopping / browsing goes. In other words, find the bracket you like, find the available bracket size that you think would work for your space, then move on to cut your lumber accordingly. (This was a lesson learned from another instance, where we cut the lumber first to the size we wanted and could not find the right bracket size to go with it.)
The framed art is our very own Tiny Dancer and Dutch Bicycle prints, accompanied by beautiful frames from Michaels Arts & Crafts. We highly recommend picking up frames from Michaels to go with our prints and remember to remove the glass. :) Our favourite collections are their Savannah and Heritage collections – absolutely stunning and couldn't be a more perfect match for our prints. Note that Michaels has some kind of a sale every other day, so make sure to check their website for coupons before visiting the store!
Last but not least, we finished this soft look by softening it some more with jars and flowers. And there you have it, one of many ways to brighten up the walls of a girl's room!


Ekby Hensvik in White – IKEA
Shelves – Free Wood Scraps in the Country
Super White Paint for Shelves – Benjamin Moore
Savannah Barnwood Frame – Michaels Arts & Crafts
Savannah Rustic White Frame – Michaels Arts & Crafts
*Featured Art Print: Tiny Dancer – Charlene Precious Co.*
*Featured Art Print: Dutch Bicycle – Charlene Precious Co.*
Glass Cookie Jar – Homesense
Vintage Mason Jar – Garage Sale
Painted Milk Bottle – Paint Creek Hill on Etsy (Shop Closed)
Ashland Fabric Flowers (Discontinued) – Michaels Arts & Crafts
[ Back to Decor Ideas ]